Bas' digital transformation backpack
At Strategy Alliance, we often say that we "guide our customers on their digital transformation journey". This statement got me thinking about my own journeying, especially since I'm out and about more and more these days.
The picture below shows my beloved backpack. It is a MOLLE-enabled backpack, which means I can attach stuff to the backpack using the loops on the front/side/bottom, making it quite versatile and adaptable to the situation at hand. To me, the backpack is a go-bag that is always ready, waiting for me by the front door. It contains everything I need when I go out:
A small medical kit.
Dry clothes for when I've been a little too enthusiastic in which puddles I jump in/ march through.
A rain coat and a baseball cap.
My geo-caching tools (feel free to 'discover' me with the travelbug code in the photo!).
Bottles for both hot and cold beverages.
Plastic bag for any junk that I might encounter along the way.
With fall approaching: a softshell vest for when it gets cold.
A garmin GPS (in a small pouch, usually attached to the shoulder strap of the backpack).
When I need to carry more stuff, I can attach extra pouches and small bags to the outside to make room. This means I can carry everything I need for extended trips and not have to worry much.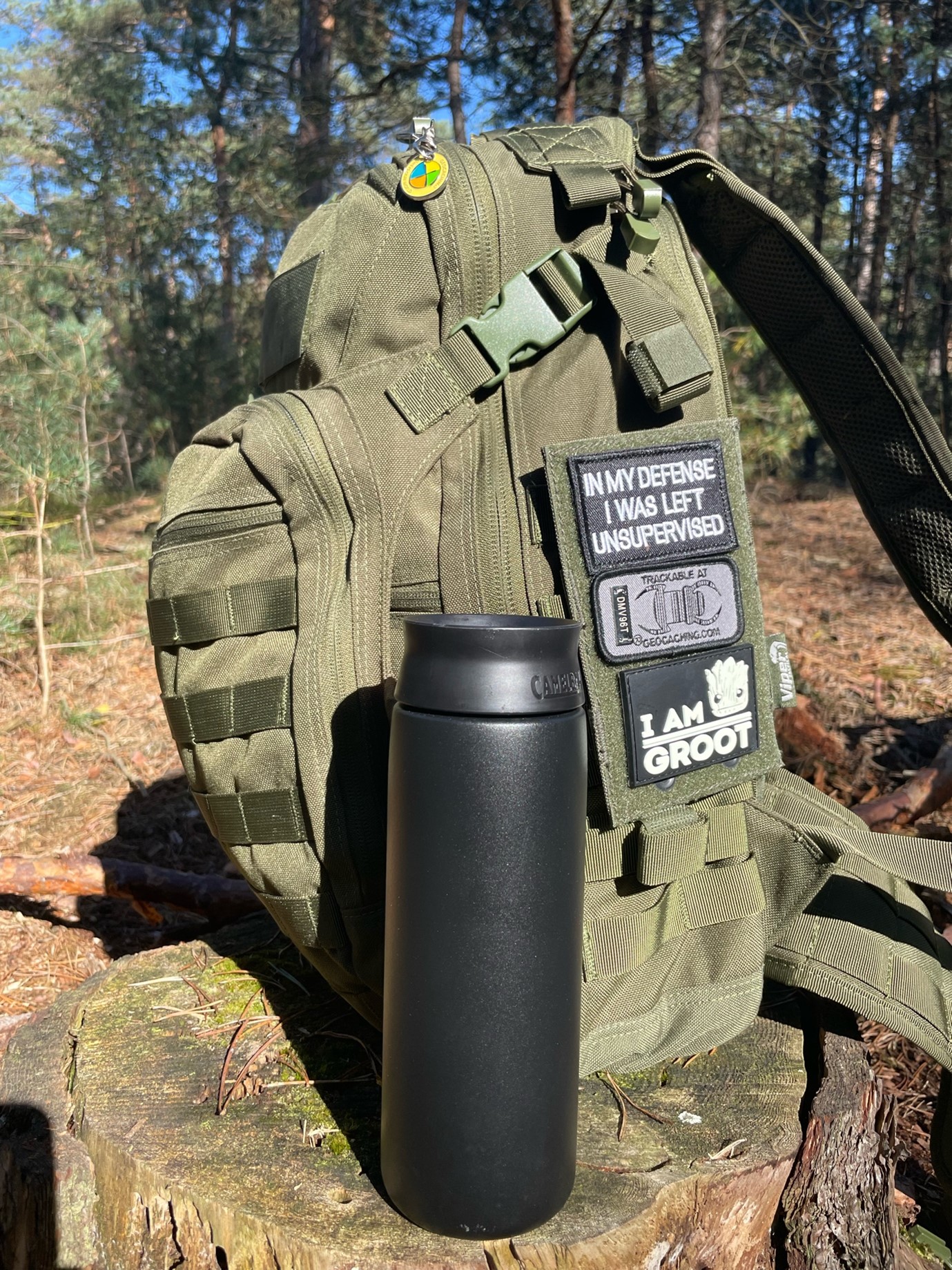 Transferring this back to a work-setting, where we guide our customers in their digital transformation journey, it makes sense to ask the question: what is in my backpack by default, and what can I add when needed? During a long (20km) hike today, I was pondering this topic and came up with the following.
I always bring the following to the table:
My passion for helping customers with digital transformation challenges.
My knowledge and skills for this type of work, accumulated through years of study and practice, transcending business/IT and strategic/tactical/operational issues.
The ability to connect with people at various levels of the organization, to engage with them and co-create solutions to digital transformation challenges.
In many cases, this is enough to get me going. However, it is important to recognize that digital transformation is highly complex. It is unlikely that one person has all the knowledge and skills in light of changing regulations, technologies, changing demands, emerging literature (case studies, new theories, heuristics). With this in mind, I think I can "add the following to my backpack":
I can always tap in the knowledge and skills of my colleagues at Strategy Alliance and Antwerp Management School.
I have an extensive library with books and papers that I can consult when trying to solve particular challenges. This keeps growing and growing: there's nothing more practical than a good theory.
Perhaps the most important one, though, is the ability to work with people at the customer: it is quite common that they already have the answers to complex challenges without realizing it!
I'm happy with the knowledge that my faithful backpack is always waiting for me by the door with all the tools I need for a fun trip. I'm equally aware that it takes conscious thought to achieve the same for my "work backpack".
Ending with a question: care to share what is in your "work go-bag"?